Product Portfolio Management & the Strategic Ripple Effect 6 of 10 – A Portfolio Roadmap Isn't Just a Product Thing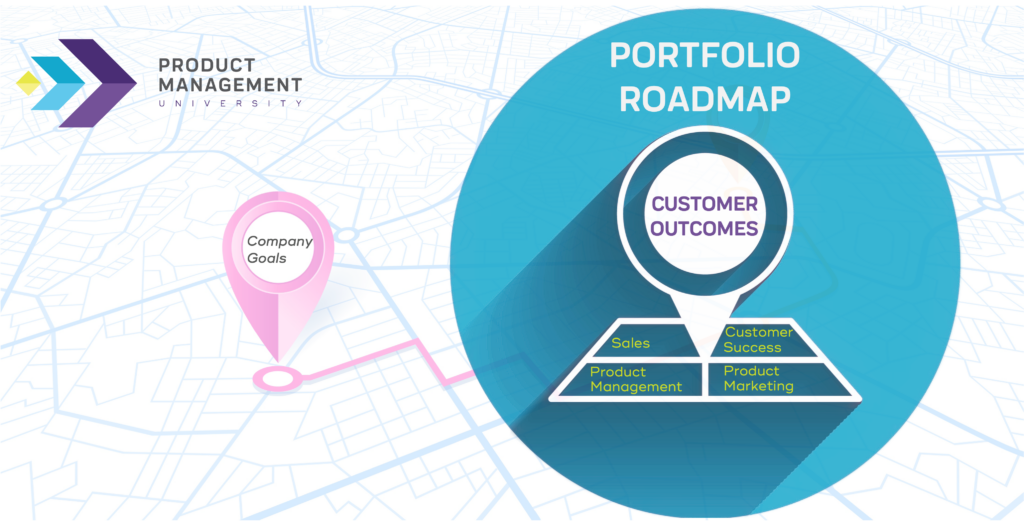 Before we bring the portfolio roadmap into the picture, let's set the stage with product roadmaps.
For most people, the term roadmap conjures up a visual presentation of product features and delivery dates published by product management. While that definition doesn't coincide with the purist view, let's run with it since feature-date roadmaps are the rule these days rather than the exception.
Since the theme here is ripple effect, let's look at the ripple effect of feature-based roadmaps.
product management publishes a feature release schedule for every product.
product marketing positions the value of those features for every product.
sales demonstrates and sells the value of those features for every product.
customer on-boarding configures features for the customer for each product.
customer success encourages their accounts to buy/adopt new features for each product.
Do you see what's happening here? Your organization is operating in silos and everyone's running as fast as they can on the feature hamster wheel in an effort to make sure your company hits its numbers, and you're trying to do it one product at a time. Incredibly difficult!
If this formula has been successful, a sincere congratulations. But it won't scale for long, everyone's working way harder than they need to, and every day there are new and different priorities.
Here's the question: Other than your company's growth/retention/adoption goals, where is your organization going in terms of customer value, why, and how will you get there?
Without a clear market strategy and portfolio roadmap, there's no single answer, which really means there are 100 or 1000 different answers. You know the stress if you've been here before, or if you're in the middle of the tornado right now!
Why This Doesn't Happen With a Portfolio Roadmap
Think of a portfolio roadmap as an all-encompassing plan that, first and foremost, aligns product management, product marketing, sales and customer success teams to a set of high-priority, high-value customer outcomes. The portfolio roadmap then outlines the execution priorities for each discipline that give you the most efficient path to reaching your organization's strategic and financial goals.
The portfolio roadmap is where you're putting stakes in the ground that lay out how you're going to attack your chosen markets with new products/features, value offerings, sales tactics and customer account strategies, all in an effort to meet your revenue/adoption/retention goals in each market.
A Portfolio Roadmap is the Glue
In the five posts leading up to this one, we identified our most lucrative markets, determined their top priorities and crafted a growth strategy for those markets.
The portfolio roadmap is where customer outcomes and your company's strategic objectives converge into a set of choreographed and funded priorities for product management, product marketing, sales, and customer success so the company can 1) deliver differentiating value to the market and 2) do it in the most efficient way to meet its strategic and financial goals.
Now comes the execution, and the devil is always in the details. But here's the difference in a portfolio management model. The portfolio roadmap gives everyone a clear and common destination that's centered on customer value, and that allows each discipline to determine the most efficient turn-by-turn directions to get there.
Can you see what's happening now? Your company is operating in a divide and conquer mode where products, marketing, sales, and customer success are each doing their part to ensure the company arrives at its chosen destination for both customer value and corporate value.
If you're interested in how a portfolio management approach can boost the performance of product management, product marketing, sales, customer on-boarding and customer success teams, contact us.
Becoming More Strategic
Subscribe to The Product Vibe or follow Product Management University on LinkedIn to make sure you get the 10-part post.
PORTFOLIO STRATEGY WHITE PAPER: How It Drives a Chain Reaction of Success Across Product Management, Product Marketing, Sales & Customer Success
by John Mansour on October 13, 2023.