Strategic Portfolio Management: The Most Effective Product Strategy for B2B
An expanding portfolio requires stronger collaboration among product managers to ensure customers get what they need: solutions that deliver quantifiable value at a level higher than just the users. In traditional "products first" product management, however, competition for resources and product KPIs result in a less valuable portfolio that becomes more and more dependent on new home-run products to drive growth.
When product management teams adopt a portfolio strategy approach to managing products, they're focused on making their organization better in market segments where they can best succeed. That means each product becomes a lever to forming solutions that are the highest value in those chosen market segments.
Is it time to rethink your approach to product management strategy? In this post, we'll take a deeper look at strategic portfolio management in the B2B space and explain some common pitfalls product managers face when their collective focus is anywhere but on the priorities of their target customers. Then we'll fill you in on how to develop a strong portfolio strategy that helps you create more valuable products.
What is Strategic Portfolio Management?
Strategic portfolio management is a market-segment-first approach to meeting your organization's strategic and financial goals.
Think of your products as individual members of a competitive sports team. Each product–or member–has a specific role to play within the team, but the ultimate goal is to help the team, or company, win in its chosen market segments.
Unlike traditional product management, strategic portfolio management is more focused on growing your company's revenue, market share, wallet share, and retention in key market segments versus the redundancies of doing it with each product.
Using the sports analogy, we might liken traditional product management to golf, where individual scores determine winners, and strategic portfolio management to a team sport like basketball, where each member has a defined role in the overall game plan.
Common Portfolio Strategy Mistakes
Developing a portfolio management strategy isn't always easy. Here are some of the most common pitfalls product managers experience when trying to develop a portfolio strategy.
Mistake #1
Starting with your own company's goals instead of your target customers' goals. "We want to make X amount of money this year." It works as a KPI, perhaps, but customer value becomes secondary, and that makes everything more difficult because there are too many right answers.
Mistake #2
Misalignment between product teams regarding the market segment priorities. Product managers need greater collaboration to ensure they're aligned on the market segments and top-down priorities of customers in those markets versus each product having its own market segments and priorities. Misunderstanding between teams leads to competition and split priorities, which usually nets a lot of stops and starts.
Mistake #3
Taking a "product-success" approach versus a market-success approach. In a portfolio strategy model, what's best for each product might not be the best or most valuable thing for the customer or your organization.
Benefits of Strategic Portfolio Management
Strategic portfolio management is enormously beneficial to B2B organizations. Here are some of the top benefits of implementing a market-segment-first portfolio strategy.
Increased Efficiency
By developing a market-segment-first portfolio strategy, you spend the most resources on products that form the highest-value solutions for your chosen market segments. Product managers are able to focus their efforts on high-value products and features that yield the best outcomes for their customers.
Focus on the Bigger Picture
When you establish quantifiable customer success as your main business objective, you won't lose sight of the connection between customer value and your business's long-term strategy. They're one and the same.
Flexibility
Strategic portfolio management gives you the capacity to be flexible and take advantage of trends and growth opportunities. Since your entire organization is focused on one main goal, your product managers won't be bogged down by silos and competing for product priorities. Therefore, your teams will be able to easily pivot to fulfill growing needs in your chosen market segments.
Higher Value Solutions
Being strategic about building your product portfolio means you'll be able to build better products that collectively deliver greater strategic value to your customers and your own organization. Better products mean higher customer satisfaction, an increase in retention, greater customer success, and, ultimately, growth for your business.
Creating an Outside-In Portfolio Strategy
This strategy ultimately helps create solutions that deliver more quantifiable value to your customers and makes your company more valuable and trusted in the B2B space.
Your target customers and their top-down business priorities are the main focuses of the Outside-In portfolio strategy.
Product managers focus on the market segments or target customers that are most conducive to their organization's strategic goals rather than doing it for each product.
When customers in named market segments are the focus, it's easier to prioritize engineering resources and direct marketing, sales, and customer success teams.
All teams are aligned under one purpose, agreeing on priorities and the allocation of resources.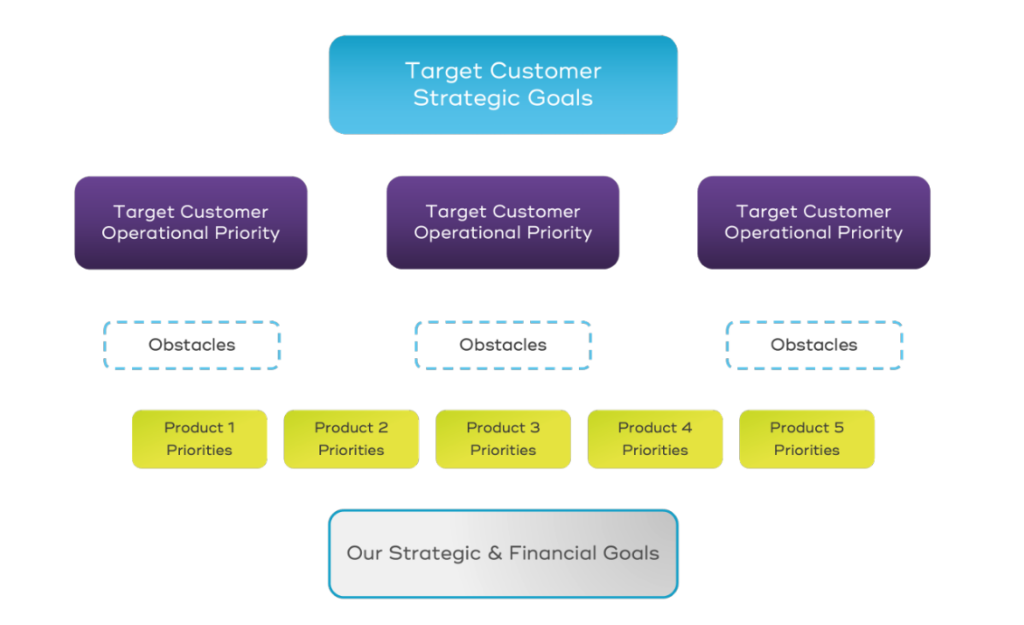 Plan for Success
Strategic portfolio management ensures one thing: your company will deliver greater value to your customers–and succeed as a business in turn. With a product portfolio strategy focused on customer outcomes in key market segments, you'll create more valuable products, help customers achieve success, and grow organizationally.
Product Management University is the only organization with a strategic portfolio management training course for B2B and can teach your organization how to implement these techniques. Check out our courses on product and portfolio management to learn unique B2B skills to become a stronger product manager and product leader within your organization.
You might also like:
by John Mansour on January 19, 2023.