Product Portfolio Management & the Strategic Ripple Effect 8 of 10 – The One Thing That Simplifies Sales Enablement Most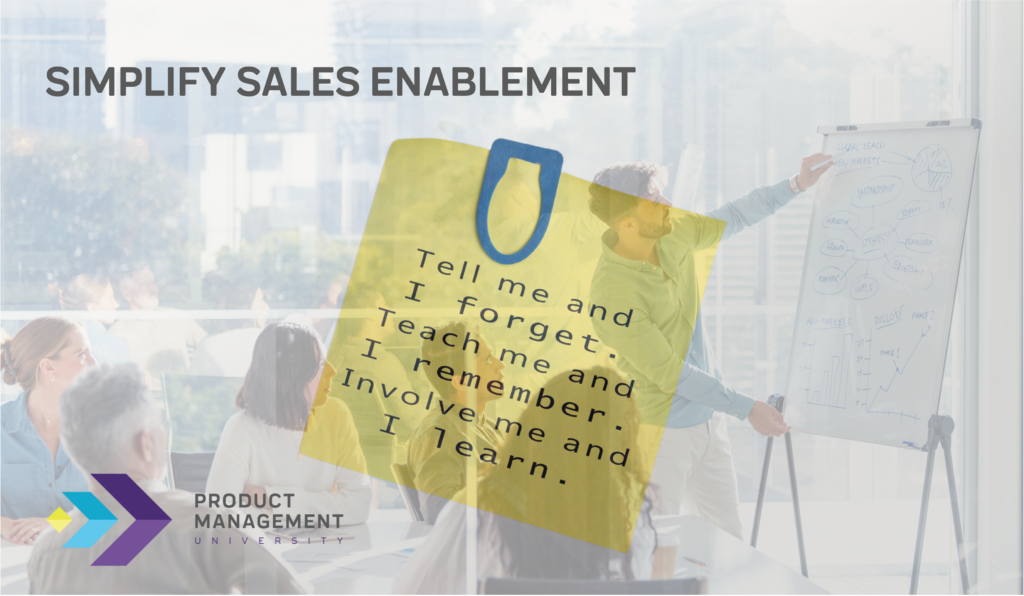 Nothing eludes the ripple effect of your product management model, and sales enablement is no exception.
Sales enablement encompasses a lot, but there's one thing that still matters more than anything else when you're a salesperson in the throes of the sales process.
It's the conversations you're having with buyers at all levels, from users to the C-suite, and from the first discovery conversation through to contract negotiations and the transition to customer success.
The credibility of your salesforce in every one of those conversations still carry more weight than all the other elements of sales enablement combined. Why?
Throughout the sales process and into the on-boarding phase, buyers need to be 100% comfortable at all times that you understand their industry, their business operations, their priorities for success, and the obstacles they're facing at every turn.
If you're part of the sales enablement team, your goal is to make sure salespeople can instill confidence in the buyer throughout the sales process that their needs are top priority.
Connecting Product Portfolio Management To Sales Enablement
If you're thinking, OK, so what does product portfolio management have to do with sales enablement, here's your answer.
Let's go all the way upstream to posts 1-5 (see below). This is one of the biggest benefits of a portfolio management model. All the work you've done upstream is now going to pay huge dividends downstream on the product marketing and sales enablement front.
In a portfolio management model, you're taking everything you know about your target customers from the top of their organization down, and training your salespeople on THE CUSTOMER – their industry dynamics, strategic and operational priorities, obstacles, etc.
This is by far the most important part of sales enablement.
The single biggest thing that wins deals for salespeople is their ability to project themselves as fully fledged experts on the business of the customer at a level that far exceeds the competition.
Training salespeople on the customer is far more important than training them on the products (unless account executives do the demos too).
Sure, salespeople need some level of product knowledge, but in most cases, they just need to know which solutions are most applicable to each situation that's critical to the buyer's success and why. Solution consultants can handle the product details.
Bottom Line: Product Portfolio Management & Sales Enablement
As I stated right up front, nothing eludes the ripple effect of your product management model and sales enablement is no exception.
In a traditional product management model, salespeople have to learn a value story for each product, and the more products you have, the more difficult it is, not to mention, each of those stories were probably formed in a silo, focused on user problems and very tactical. It makes the job of sales much more difficult!
With a portfolio approach to product management, sales enablement becomes simpler because there's only one value story to tell, the strategic portfolio story. Product stories become supporting proof points and aren't nearly as complicated to articulate when everything is relevant to the value of the portfolio.
If you're interested in how a portfolio marketing model can simplify sales enablement and make your salespeople more effective, contact us and see how our training programs can elevate the performance of product management, product marketing, sales, customer on-boarding and customer success teams.
Becoming More Strategic
Subscribe to The Product Vibe or follow Product Management University on LinkedIn to make sure you get the 10-part post.
by John Mansour on October 17, 2023.