Product Portfolio Management & the Strategic Ripple Effect 5 of 10 – Integrating Business Processes vs. Products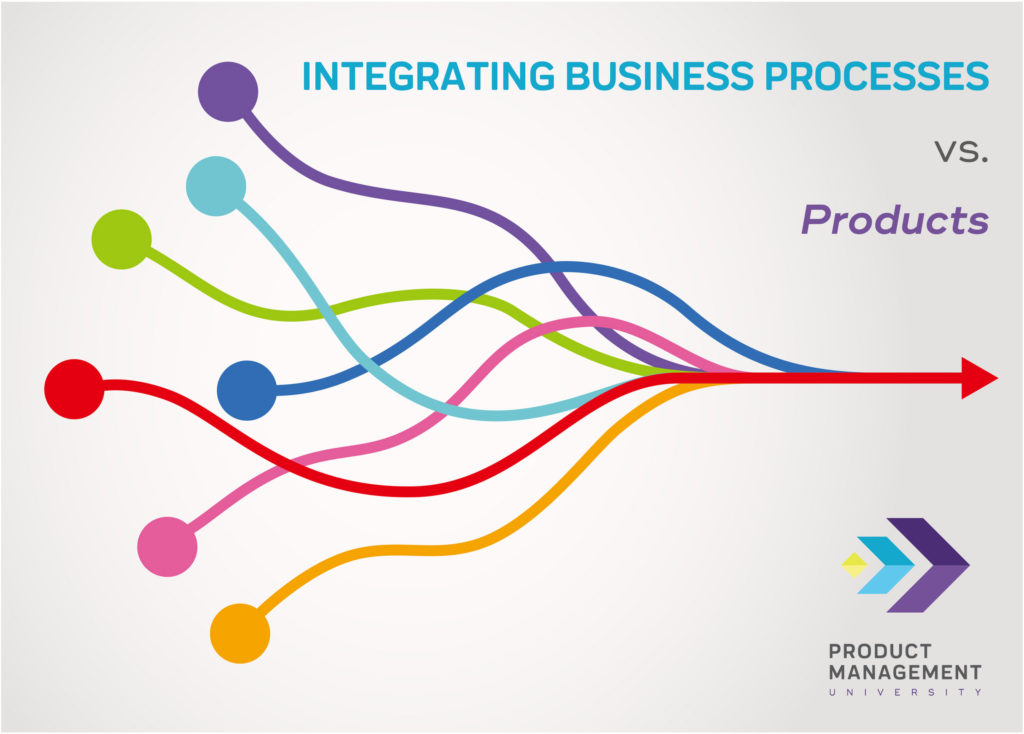 Let's start this discussion of integrating business processes vs. products with the spotlight on pre-sales, sales, and customer on-boarding since they bear the brunt of the ripple effect.
Here's the scenario. You're in the throes of the sales cycle and it's product demo time. In addition to functionality, you're highlighting the fact that all your products reside on a common platform and the associated benefits that come with it.
Problem 1
Your competitors are saying the same thing whether it's 100% true or not. When your differentiating value isn't abundantly clear, the deal ends up with no decision or worse yet, a loss.
Let's go glass half full here and say you win the deal. The transition meeting with customer on-boarding is complete and it's time to make sure customers get the value they expected. Ideally, it can be quantified in a short period of time.
Problem 2
The customer on-boarding team is no sooner out of the gate and they're dealing with one product deficiency after another, running into issues at every turn. They're bombarding product management with critical enhancement requests just to get the customer up and running. Starting your own revenue meter for this customer is also delayed in the process. Ouch!
Problem 3
Product managers are now forced to erect detour signs all over their roadmaps to get customers up and running (…we need the revenue).
Multiply this scenario by even a small percentage of deals you closed in the last 12 months and you have a big mess across the board.
Problem 4
"Cleanup on aisle 6!" Customer success gets the hot potato dropped in their lap and they're immediately playing defense. So much for strategic account planning. Renewal discussions should be fun too, right?
Root Cause?
It starts all the way upstream where the intent was to integrate products to a common platform instead of first understanding which business processes were most important for your target customers to integrate and their value to the business.
With that as the backdrop, the integration of those products on to the platform would have been done with a completely different purpose – to support the operational integration of specific customer business processes.
If you're managing products in silos that means you're looking at customer needs in silos, building products in silos, marketing products in silos…you get the drift.
This Doesn't Happen In a Portfolio Management Model
In a portfolio management model, and long before the integration projects were ever scoped, product managers would have done customer discovery from the top down to understand what your target customers are trying to accomplish, why, and the obstacles standing in their way.
That would have led them to the customer business processes that are most in need of operational integration. Product integration projects would be scoped across all products collectively (the portfolio) with those customer outcomes as the value target!
Now, let's replay the scenario we started with, keeping in mind that clear customer outcomes (and obstacles) are driving the integration.
Product management has set everyone else up for success.
Product marketing now has a differentiating message to fill the pipeline.
That differentiation is demonstrable in the sales process and your win rates goes up.
Customer on-boarding teams implement with clear customer outcomes as their target, and the product has no major deficiencies that delay the go-live date or the revenue meter.
Customer success teams now have an easier time with renewals, and strategic account planning takes on a completely different tone.
All the feedback from customer success and their strategic account planning meetings goes directly back to product management as high-definition voice-of-customer (VoC) input.
The Bottom Line on Integrating Business Processes vs. Products
Here's the bottom line. Your customers are coming to you for solutions that help them remove silos within their own business so they can more seamlessly serve their customers.
It's difficult to deliver that level of value when product management is operating in product silos at the front end of everything.
If you're interested in how a portfolio management approach can boost the performance of product management, product marketing, sales, customer on-boarding and customer success, contact us.
Becoming More Strategic
Subscribe to The Product Vibe or follow Product Management University on LinkedIn to make sure you get the 10-part post.
by John Mansour on October 11, 2023.