Product Led Growth and Product Marketing's Growing Influence on Product Design in B2B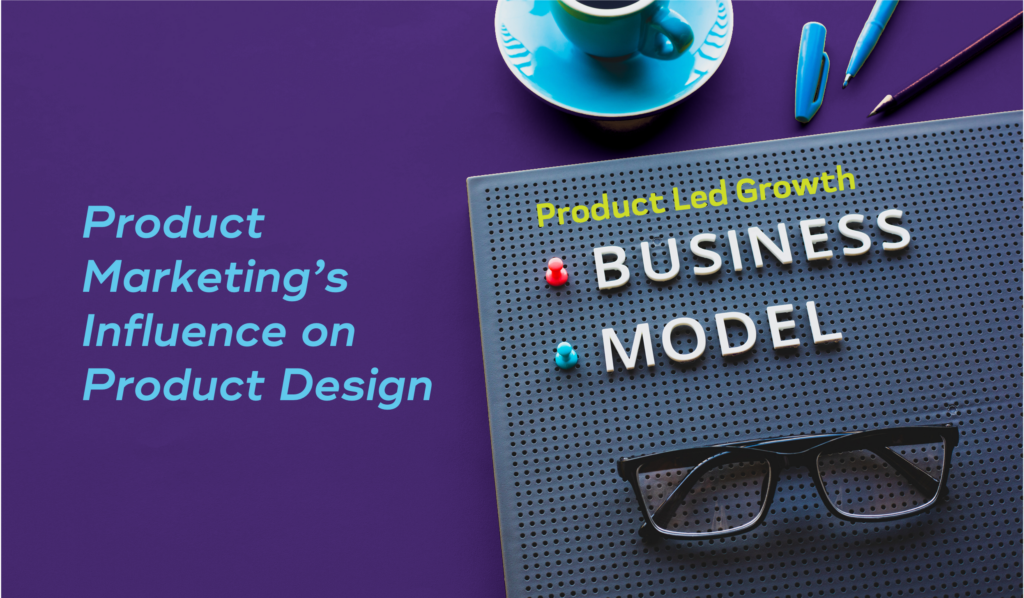 B2B product marketing changes significantly in a product led growth (PLG) model because the manner in which you're positioning, marketing and selling your products is completely different than a direct sales model.
If you're a product marketer, one of the biggest changes in a PLG model is your growing involvement and influence on product design. To a certain extent, it's the B2B equivalent of in-app marketing for consumer apps on a mobile device.
What is a Product Led Growth Model In B2B?
Product led growth is a bottom-up revenue model for B2B cloud/SaaS applications in which users drive adoption and revenue with few if any barriers to entry.
Users typically get to use an application for free but the key is making sure that free version has significant value (think zoom and Calendly). Solution providers have 5 objectives with a product led growth model:
Drive mass user/market adoption as quickly as possible. Exponential free access is the key. It's not just the users that have free access. It's also everyone in the user's workflow that interacts with the application.
Limit what users can do with the free version, albeit valuable, but offer strong incentive to use a paid version.
Establish a strong user base inside every organization to the point where the application by default, becomes a corporate standard that's generating a strong recurring revenue stream.
Significantly reduce the overhead cost of sales and marketing as compared to a direct sales model.
Create pipelines and revenue streams that are more predictable and more consistent.
Everything Changes for Product Marketing
Other than positioning and messaging skills, everything changes for product marketing in a PLG model.
Since you have no direct salesforce, you're no longer the hotline for the sales tools du jour. You don't have to concern yourself with creating sales playbooks and battlecards. Marketing campaigns aimed at opening doors and engaging executive buyers? Nope!
Most of what product marketing does to support a direct salesforce goes away. At some point, you might have a corporate accounts team (customer success) that requires support, but it's miniscule compared to a direct salesforce.
In a PLG model, you're marketing strictly to users and through non-traditional channels. That means you'll need more in-depth knowledge of their workstreams because the free version only takes them so far in their journey before they have to pay.
Think about how easy is it to schedule a meeting with people using Calendly? You're not only marketing the paid version to free users, you're also tasked with marketing to your customer's ecosystem from within the application.
This is where product marketing has to get involved in product design and why stronger knowledge of the end-user journey is required.
Product Marketing's Influence on Product Design
Product marketers don't have to become product managers but the collaboration factor has to be significantly greater than it is in a direct sales model.
Both product management and product marketing need to have the same in-depth understanding of what users do, why they do it, how they do it, the outcomes they want, and the obstacles standing in their way.
Once that foundation is established, product management and product marketing need to put their heads together to figure out the following:
Defining the hook – what will you give users for free that has enough value to hook them? (e.g., invoice your customers for free)
Determining stages in the user workflows where there's strong incentive to pay for additional capabilities to simplify those stages of the workflow. (e.g., collect for those invoices, send late notices, add late fees, etc.)
Once product marketing and product management are on the same page with the above, it's time for product marketing to determine exactly how it's going to market those paid upgrades within the application.
This is where product marketing has to define the workflow for how the incentives and offers will be presented to users at certain stages of their journey, how payment will be taken, and how user workflows will not be disrupted in the process.
Product marketing is now part of the product!
The Bottom Line on Product Marketing & Product Led Growth
If you're a mature B2B company with a direct sales model and you're looking to transition to a product led growth model, the most opportune time to do it is when you're rearchitecting your platform and you can build it technically for a PLG revenue model.
Learn more: Evolving to Product Led Growth in 5 Steps
The biggest challenge for product marketers in a PLG model is that they'll have to develop some light product management skills without losing their product marketing acumen (emphasis on the WHAT & WHY value part of the equation).
Fear not, product management. It's not like product marketing is invading your turf. It's the fact that the definition of product is much broader than it used to be.
Product management will have to adapt when it comes to product design and scope. The definition of application functionality grows significantly in a PLG model because marketing and sales of the product are now part of the product, not something that happens after the product is built.
Bottom line, a product led growth model forces product marketing and product management to be joined at the hip. Sure, it should have been that way all along but now is a must!
If you want to learn how to deliver, market and sell value from the bottom up (PLG), you still have to understand what's driving your target customers from the top down. Contact us about a personalized training course for your product marketing and product management teams to simplify the transition and get all the tools to make it happen.
You might also like:
by John Mansour on January 9, 2023.