Customer Success – How To Build Relationships With Customer Executives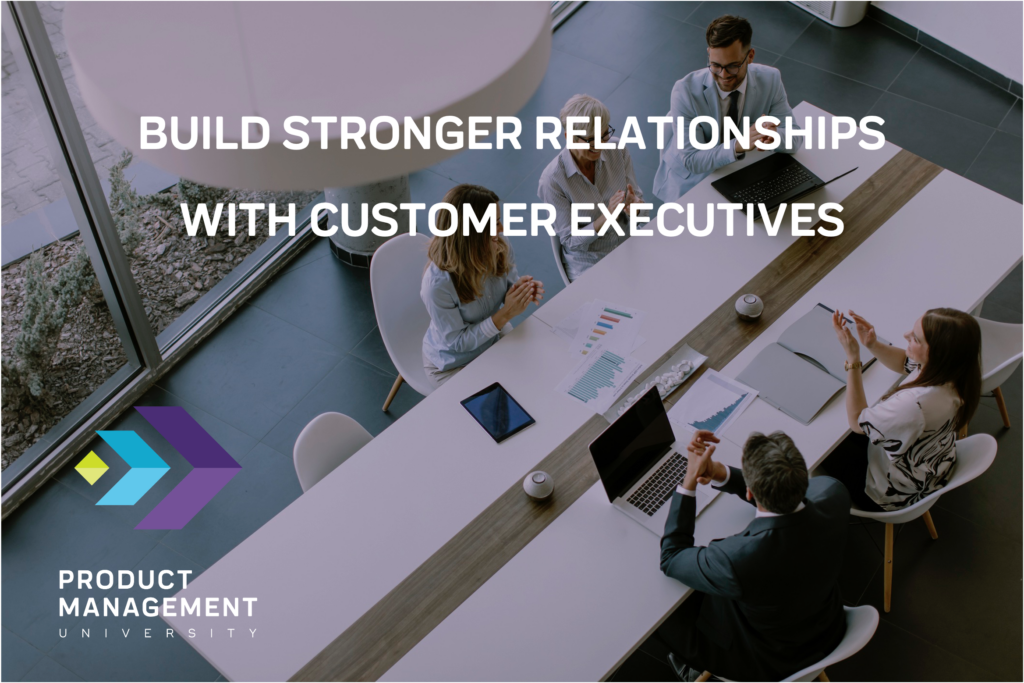 As the customer success manager (CSM) role evolves into more of a strategic customer leadership role versus a tactical reactionary role, it's critical to build relationships with customer executives, and in most cases, it's not as difficult as you think. Kudos if you're already there.
Relationships with customer executives aren't only critical to customer success managers. They're also critical to the success of product management, product marketing and sales. The expanded CSM role presents a great opportunity to establish a stronger leadership position internally by defining the structure for all customer interactions with each account, including executive access if that structure is not already in place.
In other words, CSMs are the gatekeepers to all customer interactions at all levels and across all disciplines (product, marketing, sales, back office) so that every facet of your organization stays aligned with the customer account strategy.
Why Executive Relationships Are Critical to Your Account Strategy
If your goal is to make sure customers consistently receive measurable strategic value from your products and services (to keep them paying), you have to understand their big-picture strategic priorities. Senior executives will give you the best perspective on top-level priorities, their importance to the company's success and the impact on areas where your products are used.
Most CSMs are interacting with managers in the day-to-day operations. While those mid and senior-level managers are usually in the know about some aspects of the customer's strategy, they may not have the full perspective beyond their area of responsibility. Although they have a heavy influence on annual renewals, the final decisions usually lie with senior executives.
Here's why the big-picture perspective on the customer's strategy is so critical to the success of your account strategy. If you can't measure the value your products deliver and their impact on one or more strategic priorities, your odds of losing customers goes up significantly. Remember, executives have big bonuses tied to results. The more you impact those results, the easier the renewals become.
Additionally, think about the things that happen in other parts of the organization where your products aren't used, and the ripple effect on areas that are using your products. Then think about all the jobs that are done in areas where your products are used and the ripple effect on other parts of the customer organization.
Without knowledge of the customer's strategic priorities at a higher level, you could easily miss adjacent opportunities (higher adoption, cross-sell, up-sell) to help customers further eliminate silos and operate more seamlessly to better serve their customers. Strategic value!
Your Plan for Building Relationships With Customer Executives
1. Re-Introduce the Customer Success Role
Consider a re-introduction of the customer success role in an effort to reboot your relationship at all levels of the customer organization. Explain how and why the role has changed in your organization, the focus on quantifiable customer outcomes, and your desired relationship with the customer going forward. The underlying message is, it's all about their success and with much greater focus on strategic impact!
In other words, you're telling them that your organization has a CEO-level (top-down) initiative to make sure customers consistently receive measurable strategic value from your products and services and how the relationship needs to change for both of you to make it happen.
You'll outline a revised set of activities that govern your relationship and the importance of understanding how you can deliver greater value that advances their strategy.
2. Facilitate Regular Strategic Planning Meetings
Expect to be pleasantly surprised when you offer to facilitate strategic planning meetings. You're bringing something to the table that's valuable beyond your products, and this is the #1 reason customer executives will get involved. You're offering something of value that supports their agenda!
Here's the thing. Don't assume your customers have a methodical or structured way of determining their own strategic priorities. Anything you do that simplifies or brings further clarity to their strategy and the subsequent execution is pure gold! You and the customer are now going in the same direction with the same goals.
Here's the best part as it relates to your day-to-day. Once you have an account strategy in place, every new issue the customer adds to your laundry list can be evaluated and prioritized relative to the strategy, priorities and outcomes you've mutually agreed on. In other words, every issue is not a hair-on-fire situation you need to react to immediately.
The Bottom Line On Building Relationships With Customer Executives
It's all about results, a.k.a., business outcomes with measurable value. When those customer executives are interacting with their boards and investors, you want your products to be a key reason they're meeting or exceeding expectations versus an excuse for why they didn't.
And as long as your products can be tied to that level of success, those customers aren't going anywhere, and retention is the ultimate measure of success for CSMs.
How can Product Management University help your CSMs lead customers more strategically? We'll teach you value skills for doing the following and leave you with supporting tools for faster adoption. We'll personalize it to your customer accounts so you'll know exactly what good looks like for you at the end of the training.
How to on-board customers to ensure your products/services deliver outcomes with measurable value.
How to do top-down customer discovery so you can connect the dots between their strategic priorities and your products/services.
How to uncover needs for greater adoption, cross-sell and up-sell opportunities.
How to facilitate a strategic account planning meeting.
How to create a strategic account roadmap with supporting execution activities.
How to position the value of add-on products/services relative to the customer's strategic priorities.
How to facilitate quarterly business reviews (QBRs).
We also offer coaching to help you through the transition. Contact us to learn more. See the full course curriculum for Customer Success Value Skills.
You might also like:
by John Mansour on September 11, 2023.