Proficientz Launches Product Management University for B2B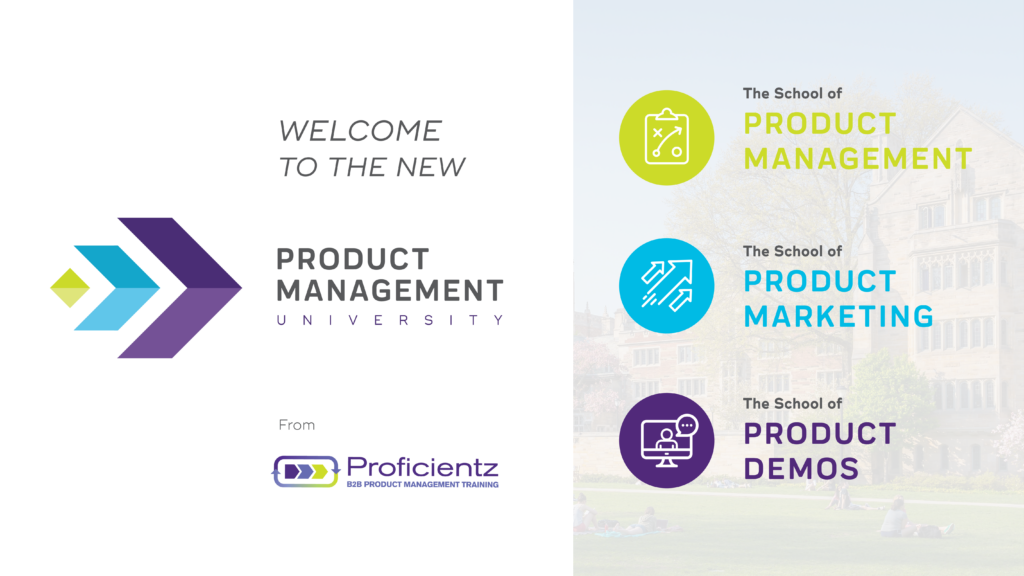 Three Dedicated Schools For Product Success & Career Growth
ROCK HILL, SC (PRWEB) JUNE 22, 2022
Proficientz, Inc. announced today the launch of Product Management University for B2B with three dedicated schools:
The School of Product Management
The School of Product Marketing
The School of Product Demos.
Each school offers basic and advanced training programs accompanied by certifications for each.
Product Success & Customer Outcomes
Product Management University helps B2B and B2B2C organizations grow the success of their products by eliminating silos and aligning all customer-facing disciplines to a common set of customer business outcomes with quantifiable strategic value.
It's a unique approach that ensures product direction, marketing messages and sales enablement tools never miss the mark – all of which result in faster growth and more customer success stories.
Career Growth & B2B Specialization
Product Management University also gives product management, product marketing and pre-sales professionals more rewarding careers by teaching them unique skills and best practices for B2B and B2B2C versus training programs that take a more generic approach and focus on tactical user problems with consumer product principles.
Personalized Hands-On Training
Product Management University differs from similar training programs in that it personalizes each course to the customer's individual products, markets and business model. The goal is for students to walk away from the training with artifacts and content that exemplify what good looks like for their unique circumstances.
According to John Mansour, President of Product Management University, "Customer success metrics are at the forefront of everything. Product management, product marketing and pre-sales/product demo professionals have a tremendous opportunity to take their skills and careers to the next level by learning new best practices for B2B that revolve around measurable customer outcomes versus a traditional problem-only focus.
Our training programs and certifications are a perfect fit for organizations that want to cut to the chase, simplify and accelerate growth by aligning products, marketing and sales to high-value customer outcomes and success metrics."
About Proficientz & Product Management University
Product Management University is a training and certification organization that specializes in B2B and B2B2C product management, product marketing and product demos. We help organizations grow the success of their products and we help individuals grow their careers by aligning all customer-facing disciplines to common customer outcomes with strategic value and making those outcomes the centerpiece of everything they do.
by John Mansour on June 22, 2022.